Round Peach Colored Pill Rs What Is It
Updated
Worried
Says:
I found a large round peach/orange colored pill that crumbles very easily and has an RS on it. Does anyone know what this might be? I'm thinking it is a street drug. I found it in my fiancée's stuff along with a pipe of some sort. Please help.
1 Reply
Hello Worried,

I wasn't able to find anything under the imprint RS but since a lot of people confuse the letter J with a lower case r I did find something that matches your description, according the NIH the pill is an adult low strength aspirin which would be used for low grade pain relief. I have attached a picture and some additional information sourced from the NIH.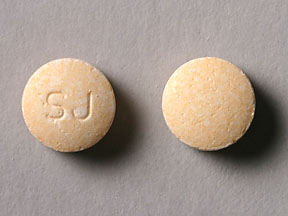 PRODUCT CODE

76000-414

IMPRINT SJ

INGREDIENTS

ASPIRIN 81 mg;

LABEL AUTHOR

Bedrock Brands, LLC

COLOR

PINK

SIZE

8mm

SHAPE

ROUND

INACTIVE INGREDIENTS

- Silicon Dioxide
- Croscarmellose Sodium
- Fd&c Red No. 40
- Fd&c Yellow No. 6
- Hypromelloses
- Polydextrose
- Polyethylene Glycols
- Dimethicone
- Sodium Alginate
- Sodium Bicarbonate
- Talc
- Titanium Dioxide
- Triacetin
- Triethyl Citrate

I really do hope that this is the pill you are looking for as it's the only one that I was able to find that is near your description. Let me know if you have any further questions.
More Discussions:
I Found A Round Very Small Peach Colored Pill With Just The Letter C On It And Smooth What Is Please Was In Childs Room
i found in my grandsons room in a plastic bag a very small round smooth peach colored pill with just the letter c on it ...
5 REPLIES
Small Round Peach Colored Pill With Cursor R On It
I am looking for the description of a small round peach pill with a cursor R on one side ## Are there any other markings...
2 REPLIES
Peach Colored Pill withM on one side slash 40 on same side it is round
This is all that I have about this pill THIS PILL IS PINK WITH A PLAIN SIDE AND 40SLASH M ON OTHER SIDE SETIX ## This ta...
1 REPLY
I have a small round, peach colored pill that haa Y on one side and the numbers 029 on the other side. It also has a line under the numbers
I found a small peach colored round pill that has a symbol on one side that looks like a Y and the numbers 029 on the ot...
2 REPLIES
whats is a round peach looking pill with numbers 3571 over y
Found a little peach pill with numbers 3571 over a V or Y can't tell wat it is can u tell me what it is? ## HI, Jere...
1 REPLY
Peach Colored Pill With Line Through The Middle And Dan On Top Number 20 Below What Is This
round, peach color, one side has line thru middle, DAN is above line, 20 is below line and on opposite side of pill are ...
2 REPLIES
Round Peach Colored Pill With 277 On One Side
This is a round orange or peach colored pill with 277 on one side ## Hi Rex, I believe I located your pill to be Januvia...
3 REPLIES
round peach colored pill with letter L on it. small,round and kinda thick
Has an"L" on one side and nothing on other side. L is etched on one side not colored in black, just etched on on...
2 REPLIES
round peach colored pill one side has apo and opposite que 25
Tiny, peach colored pill with the marking QUE, with the number 25 below it and on the other side it has the marking APO....
1 REPLY
1/4 round peach colored pill marked with or606
i found a 1/4 inch round peach colored pill marked with OR 606 on one side and nothing on the other, any idea what it is...
1 REPLY