Round, Light Blue Pill With The Imprint 00 On One Side And 08 Or 80 On The Other Side
Updated
Conversation Starter
Comments Submitted
Says:
Please help! I found this pill along with others in my husbands car.
Showing Replies 1 - 2 of 2
1
Wayne
Says:
via mobile
I took these for years. It's an 80 mg oxycontin. It contains 80 mg of oxycodone, and is in a time release form hopefully he won't chew it, that's a big big dose all at once.
2
Kevin
Says:
Hello,

I believe that I found a pill that matches your description. Below I have linked a picture of an 80mg oxcodone pill that I found, can you tell me if this is the pill that you found?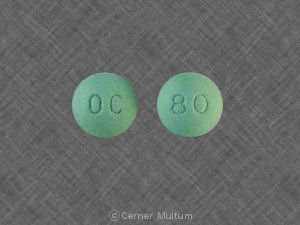 If this is the pill that you found just let me know and I'll provide you with some additional information if you want.
Viewing page
1
of
1
Reply
More Discussions: